Digital Signage System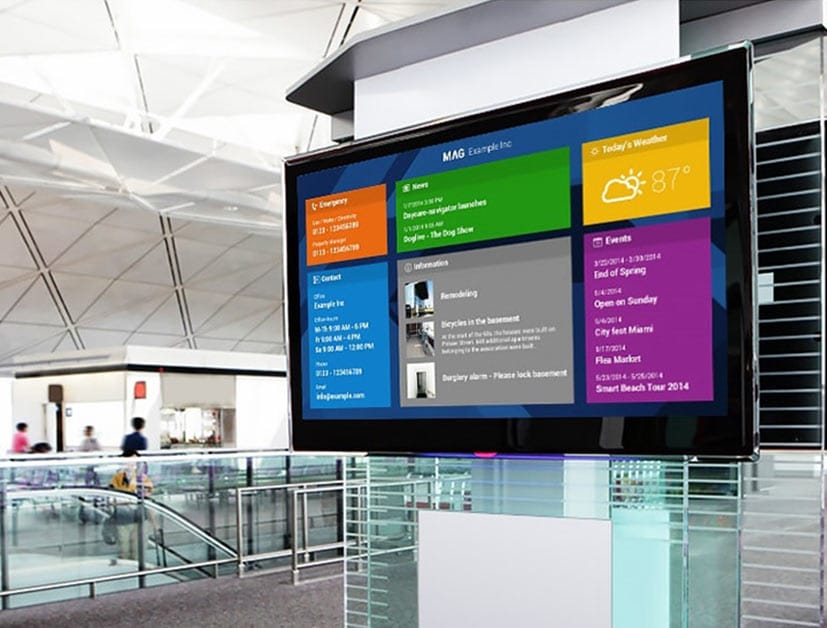 One of our customers was looking for a digital signage system, they wanted a number of displays in the large reception area, some in their design suites, one outside their conference room, and some in the sales offices to display dashboards that we had previously written for them.
All of the displays needed to be controlled from a central management console, with different content on each display, such as Video, Photo Slide Show, Custom Messages and Dashboards
They didn't have a huge budget for this, and previously they had looked into costs for this and had been quoted around £1000 per display.
We visited their large site, looked into network points and WiFi coverage, and went away to price up the system.
We managed to deliver all their requirements, fully installed and tested, with HD outputs for a fraction of the costs they were previously quoted, we even utilised some existing monitors and displays they had on-site to save them money.
We also included product training for free !!
Once again, another very satisfied customer, getting what they wanted, a reliable and flexible system, delivered at a fraction of the cost others had quoted, and including our friendly smile and ongoing support !!
CLICK HERE TO CONTACT US
J700 Group is able to offer a cost effective digital signage system, that can either be self or fully managed by ourselves, we can incorporate outdoor digital signage displays, digital signage menu boards, and even touch screen digital signage systems.
The many benefits of digital signage in restaurants include:
Digital Menus that can be instantly updated
Digital Ordering
Contactless Ordering
and much more
The benefits of digital signage across a whole range of sectors are clear to see, contact one of our team today for further information.
CLICK HERE TO CONTACT US
---