The new way of working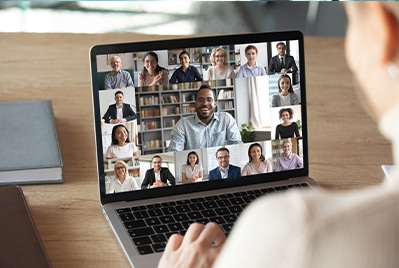 The new way of working
Businesses have become more reliant on the digital world than ever before and this is set to increase even further as we move forward and everyone embraces the new way of working.
All businesses are now seeing the advantage of having an online presence, and workers are taking advantage of new technology such as:
Making working from home just as or even more productive than working in the office.
Many businesses have seen the advantage and ease of online trading and the demand for new websites and especially eCommerce sites have skyrocketed over the past few months, with this trend set to continue for the foreseeable future.
There has been a significant shift to home working with some businesses making the switch permanent and some deferring their employees coming back to the office until next year if at all.
With all the advancements of technology, for a lot of workers, there has become little need to be in the office, and many stated that working from home makes them more productive, especially with all the time saved traveling.
Do we think there will be a permanent shift to remote working?
It certainly looks like it for many, we don't know how long the virus will be around and will continue to disrupt everyday life, but even if it is eradicated, we feel that remote working may even become the norm for many due to all its advantages.
Unfortunately as a result of the pandemic, and despite efforts to secure the economy, many have lost their jobs, some of these have decided to set up their own businesses, and this has driven some of the demand for website development, SEO services, Managed IT Services and IT Support.
There has been a huge upsurge in online shopping with consumers not wanting to risk going out to the shops, which has also helped to drive the demand for eCommerce websites
How has it affected J700 Group?
We have been very fortunate to see an increase in demand for our services, we support a number of companies in different sectors that have all seen higher demand for their services and in return they have required more from J700 Group which we are thankful for, we have also seen quite a number of new customers come on board with us, all of whom we are please to be supporting with their own digital journey and associated requirements.
Due to the higher demand for the services we offer, we are also pleased to be able to make available some new positions which are currently live on our website and job boards.
So to summerise, the pandemic has caused huge challenges for many, and it has definitely made companies re-evaluate how they work, for others it has put large demand on their services and they have had to adapt in a different way, but whatever the situation a company has faced, a shift to digital and further embracing of technology has helped everyone to adapt, certainly for the shorter terms, but it looks like things may change for the longer term as well.
Whatever personal challenges you have faced, we hope you are and have stayed well, and continue to do so.
J700 Group has got the answers for all your I.T needs, a tailored solution for your business and a genuine passion to help you succeed. Professional service with a truly excellent reputation, let us prove it!   Talk to one of our team today
About Us – The Author
J700 Group are a Lancashire-based, family-run, professional and responsive, Managed Solutions Provider helping Businesses, the Education Sector, and the Healthcare Sector to utilise Innovative IT Consultancy Services, Cloud Solutions, Cyber Security, Microsoft 365, Telecoms, Web Design and SEO solutions to propel their organisation to the next level and beyond.
As an experienced IT Support Provider, helping businesses across Lancashire & Manchester, if you need any assistance with your IT including IT Hardware, a Disaster Recovery Policy or Managed Backup Solutions; Contact us today to see how we can help your business.
#thenewnormal #remoteworking #b2b #localbusiness #businesslancashire
---