7 Customer-Facing Technologies to Give Your Business an Advantage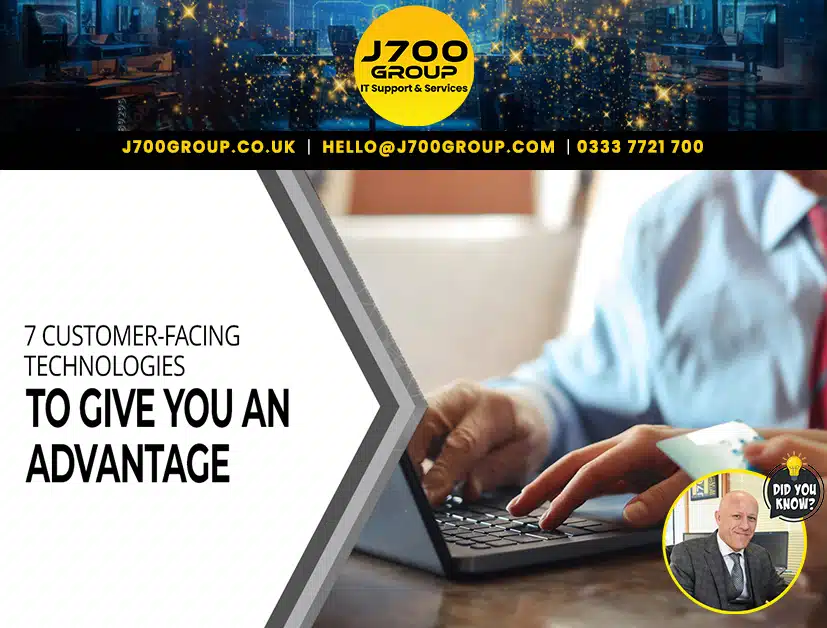 Your customers are looking for convenience. In today's world that means technology that makes their working life easier, faster, and more efficient – freeing them up more time to run their business. From webforms to POS systems, you need to ensure the customer experience is paramount throughout everything.
Companies that are effective in this reap the rewards:
Customer centric companies are 60% more profitable than those that aren't.
Here, Jonathan Cundliffe, Managing Director of J700 Group, suggests seven tried and tested technologies that improve communications and aid customer service effectiveness. Jon comments, "Delighted customers are retained…satisfied customers may look elsewhere…unhappy customers leave.
Technology is vital to both attracting new customers and retaining existing."
1. Cloud Based Forms
Still emailing forms in Microsoft Word to your customers? Cloud based forms make the process much quicker by just following a link rather than downloading, saving, return emailing etc.
Forms can then also be auto prepared, collated and the data analysed.
If you use Microsoft 365, you already have a Cloud Form Tool: look in your apps or go to: Microsoft's site.
2. Digital Signatures
The use of eSignatures is expected to grow by 69% by 2024. This technology means:
no printing (saving the environment)
no signing or scanning or return emailing
less mistakes / chances for the process to go wrong
swifter processing of contractual documents
streamlining, freeing up customer (and your) time
3. Smart Chatbot
Frustration can lead to the loss of a potential sale. Providing the means for a question to be answered at the time of purchase is critical in aiding a smooth transaction.
Chatbots have developed into extremely smart, flexible and reactive interfaces. Programmed to be ready 24/7 to help, 68% of customers are happy to use Chatbots, enjoying the speed of response against an email.
4. SMS Notifications
With emails becoming more and more overrun by junk, SMS notifications can bypass the 'white noise' and immediately communicate anything from a delivery, a shipment, a purchase, etc. Notifications via SMS are instant alerts that definitely streamline customer service processes. Please ensure that opt in / opt out choices are obvious and easy to make.
5. Business Mobile App
As more of us have a smartphone and utilise handheld devices, the transition from website to app is increasing. Apps are geared for this usage, and we actually spend 90% of our time using apps as opposed to 10% on internet browsers.
A mobile app for your company would make it easier for your customers to communicate and do business with you, providing more marketing and service capabilities (such as push notifications).
Jon suggests, "A great place to start is with a 'Wrapper App' that takes your existing website and transforms it into an app."
6. FAQ Kiosk
By setting up an FAQ Kiosk – you are proving that you know your customer – their needs and concerns. This digital tool can provide a very positive experience and can also direct customers to promotions / coupons. It is also a time saving mechanism whereby commonly asked questions can be dealt with without the need for customer / office interaction.
You might think of your phone system as an internal piece of IT. But it's also one of your most customer-facing technologies. The experience people get when they call is a vital part of how they view your business.
VoIP Phone systems provide:
a professional customer facing interaction
a flexible marketing and cross selling tool
a 24/7 business operation
devices such as group ring / auto attendant / voicemail
J700 can Help Planning Your Technology Roadmap
Which technology upgrades will benefit your bottom line the most?
How should new systems integrate into existing solutions?
These are some of the things our team at J700 Group looks at when helping you look ahead to the future. Give our team a call today to schedule a chat.
About J700 Group Limited
J700 Group provide effective IT support and services that enable your business to have secure, responsive and reliable information technology, keeping it running smoothly 24/7.  Above this though, we are a family run company who truly care about our customer service and the business relationships we develop.
For more information please contact Angelina or Deon on 0333 7721 700 or email [email protected] 
 J700 Group are a Lancashire-based, family-run, professional and responsive, Managed Solutions Provider helping Businesses, to utilise Innovative IT Consultancy Services, Cloud Solutions, Cyber Security, Microsoft 365, Telecoms, Web Design and SEO solutions to propel their organisation to the next level and beyond.
As an experienced IT Support Provider, helping businesses across Lancashire & Manchester, if you need any assistance with your IT including IT Hardware, a Disaster Recovery Policy or Managed Backup Solutions please get in touch with one of our team
Where to find us: Prinny Mill Business Centre, 68 Blackburn Road, Haslingden, Lancashire, BB4 5HL
#CustomerExperience #CustomerTech #BusinessIT #ITConsulting
---