How to Use the New Virtual Appointments App in Microsoft Teams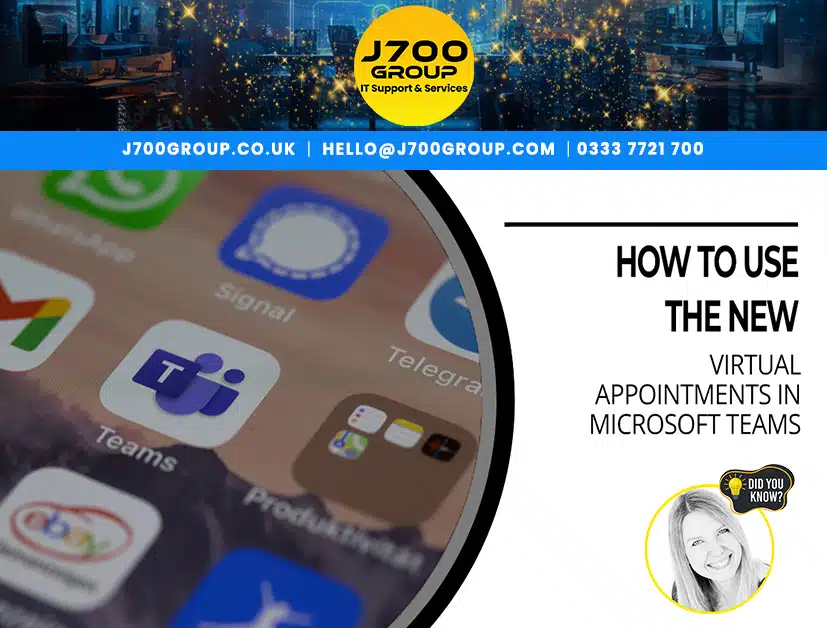 Here at J700 Group we understand that scheduling appointments is an integral part of running your day-to-day business activities. This is taking place more and more online with, for instance, salespeople setting up virtual product Q&As, software developers running live demonstrations and Telehealth therapists booking online client sessions.
All such user examples, we know,  will benefit from the new 'apps app'.
Deon Cundliffe, Director at J700 Group, has researched and compiled the following information to inform you about Virtual Appointments in Microsoft Teams – if you have any queries, please do not hesitate to get in touch with her.
What Is Virtual Appointments in Teams?
Deon explains, "It is basically an all-in-one meeting platform for customer engagements. It is a new feature that brings together scheduling and video conferencing, allowing you to book, manage and conduct customer meetings in Microsoft Teams. Customers do not even have to have a Teams account – they just auto-join the meeting via a link provided."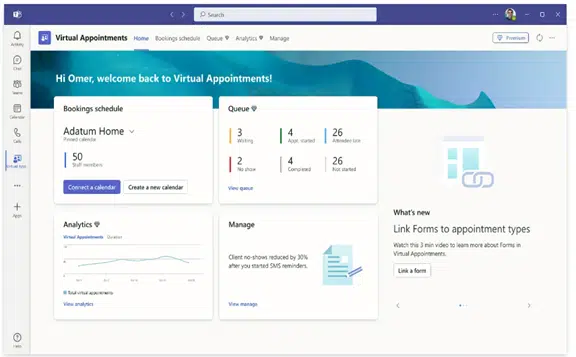 Features of Teams Virtual Appointments
Some of these are available via any Microsoft 365 account, some only via a premium plan – please ask if you are not sure.
Manage scheduled appointments in a single view. Cancellations and time / venue changes are easily updated.
Personalised confirmations and reminders – via SMS or email. These can be automated to save you time.
Customised waiting room – brand and/or theme your customer's experience. You can also inform your attendees of any delay in the meeting whilst they wait.
Meeting follow ups – after a virtual appointment, making your client communication trail easier to follow by having all details in a single location.
How to Use Virtual Appointments
NB any managing user must be a Bookings Admin to access all settings.
Create a calendar – option on the home tab. Larger organisations can create individual departmental calendars. Your calendar will sync across apps.
Add Staff – up to 100. Assign each a role. Availability for meetings can be viewed in Teams or Outlook.
Create appointment types – two options: Scheduled – day/time is added to the email confirmation; On-demand – (premium only) customers choose when to meet from your booking calendar.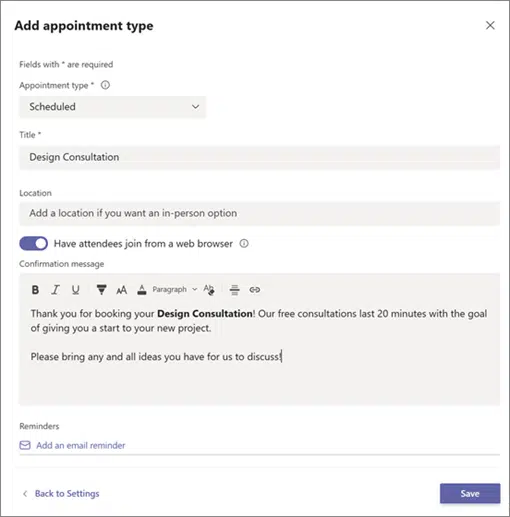 Set up SMS notifications – if this is your chosen communication – meeting reminders and confirmations easily sent via text.
Link Forms – attendees can fill out up to four cloud-based forms.
Publish your booking page – customers can book on-demand appointments with you. Go to 'Manage' and select 'Booking Page' and turn on 'Publish booking page'.
Get Help Using Your Microsoft 365 Tools More Effectively
Microsoft 365 is a platform with many possibilities. Often, companies aren't using all the features they could. As a result, their team may be less effective. They could also be wasting money on apps they don't need.
Are you interested in help supercharging your Microsoft 365 experience? Give us a call today to set up a meeting.
J700 Group provide effective IT support and services that enable your business to have secure, responsive and reliable information technology, keeping it running smoothly 24/7.  Above this though, we are a family run company who truly care about our customer service and the business relationships we develop.
For more information please contact Angelina or Deon on 0333 7721 700 or email [email protected]
J700 Group are a Lancashire-based, family-run, professional and responsive, Managed Solutions Provider helping Businesses, to utilise Innovative IT Consultancy Services, Cloud Solutions, Cyber Security, Microsoft 365, Telecoms, Web Design and SEO solutions to propel their organisation to the next level and beyond.
As an experienced IT Support Provider, helping businesses across Lancashire & Manchester, if you need any assistance with your IT including IT Hardware, a Disaster Recovery Policy or Managed Backup Solutions please get in touch with one of our team
Where to find us: Prinny Mill Business Centre, 68 Blackburn Road, Haslingden, Lancashire, BB4 5HL
#MSTeams #VirtualAppointments #MicrosoftConsulting #VirtualMeetings
---