That phishing site? Gone in 600 seconds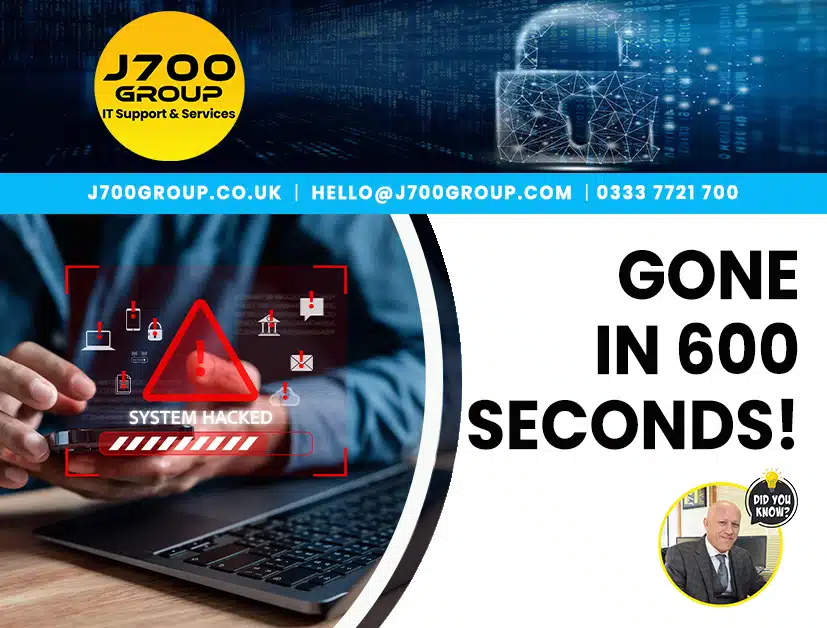 Did you know that a staggering 60% of phishing websites are only online for a fleeting 10 minutes?
This latest stat we learned about phishing websites really surprised us, but it does come with good news about an enhanced way to protect your business. Jonathan Cundliffe, Managing Director of Lancashire based J700 Group an IT Support provider and cyber security explains all the details.
The surprising fact that 60% of phishing websites are online for only 10 minutes underlines just how rapidly cyber threats are evolving and how extremely vital it is for us to stay ahead of the game.
What are Phishing Sites?
Phishing sites are fake sites that try to trick you into entering your login details. Or to get you to download malware.
The idea is that cyber criminals drive huge amounts of traffic to them… scam people… then take down the site before it can be detected.
Wouldn't it be great if we could spot these threats before they vanish into thin air and pop-up elsewhere? Well, Google Chrome has a trick up its sleeve to help us do just that.
 Imagine this: You're running your business, constantly on the move, making split-second decisions. You absent-mindedly visit a website which looks a little… odd. But you don't panic. You're using Google Chrome and it scans websites you visit against its list of malicious URLs.
But Google's list of bad websites is only updated every 30 to 60 minutes. Thats 60% of phishing domains that are active for just 10 minutes may slip through the net.
How can you protect your business from Phishing Sites
Enter Google Chrome's new security tool, Enhanced Safe Browsing.
As part of a recent update, Chrome has switched it on for everyone. It will now check URLs against a list of domains in real time. Think of it as a cyber bodyguard who can spot and neutralise threats at lightning speed.
Google has confirmed that Enhanced Safe Browsing will continue to offer features like deep scans for files and protection from malicious extensions.
Does this mean Google will know every URL you visit?
Well, yes and whilst this new feature does share all visited URLs with Google, the information will not be used to power other features, including advertising. It is a trade-off between security and privacy. Given the increasing sophistication of cyber threats, isn't it worth having an extra layer of protection?
We say embrace these new tools and stay one step ahead of the cyber criminals. After all, the safety of all our businesses depends on it.
If you need additional support protecting your business from phishing scams – or anything else – get in touch with one of our team who are happy to discuss your business's individual requirements.
J700 Group provide effective IT support and services that enable your business to have secure, responsive and reliable information technology, keeping it running smoothly 24/7.  Above this though, we are a family run company who truly care about our customer service and the business relationships we develop.
For more information please contact Angelina or Deon on 0333 7721 700 or email [email protected]
J700 Group are a Lancashire-based, family-run, professional and responsive, Managed Solutions Provider helping Businesses, to utilise Innovative IT Consultancy Services, Cloud Solutions, Cyber Security, Microsoft 365, Telecoms, Web Design and SEO solutions to propel their organisation to the next level and beyond.
As an experienced IT Support Provider, helping businesses across Lancashire & Manchester, if you need any assistance with your IT including IT Hardware, a Disaster Recovery Policy or Managed Backup Solutions please get in touch with one of our team.
Where to find us: Prinny Mill Business Centre, 68 Blackburn Road, Haslingden, Lancashire, BB4 5HL.
#GoogleChrome #EnhancedSafeBrowsing #CyberSecurity
---