Your Call Is Important To Us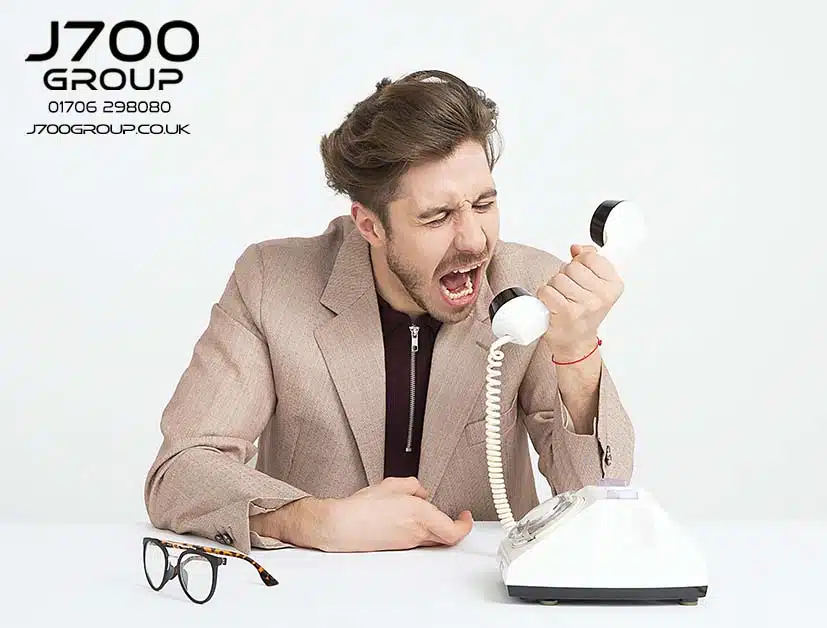 In this featured-article, we look at the traditional frustrations that occur when customers encounter (some) phone systems and how technology is helping to bring better experiences.
Spending Time On Hold
Being put on hold and spending time waiting has long been known to frustrate customers, cause stress, and lead to them hanging up. Even though it costs money and can lead to lost business, many companies continue to do it even though, from a customer's perspective, it may feel like the company really doesn't care about them. Despite messages that their call is 'important,' many customers feel that these experiences on hold are more for the company's convenience, rather than that of the customer.
There is also an argument that from the company's perspective, losing customers (from putting them on hold) means that the business loses opportunities to gain insights from the calls that could feed into creating a better service and a better experience for customers moving forward. It can also lose opportunities to gain information about competitor activity which is often mentioned in customer calls.
60 Seconds … to Lose 60% of Customers
There is a large body of research to show that customers h-a-t-e being put on hold, but they really like human engagement. Research from Volaro (2012), for example, showed that waiting on hold for 60 seconds results in almost 60 percent of customers hanging up, and 63 percent would prefer a call-back option.
A Sense of Progress Is Valued
A 2007 study (Munichor, Nira, Rafaeli, Anat, Journal of Applied Psychology), where one-third of callers were given music, one-third were given music interrupted by messages apologising for the wait, and one-third were given punctuated by status updates (i.e., "You are the fourth caller in line… You are the third caller in line,") showed that those who received the status updates were the most satisfied. Even though they waited the same amount of time, it was the sense of progress that they valued and found comforting.
Human Engagement Is Important
Even in this virtual age, human engagement is still very much valued by customers. A CGS survey (2019), showed that 86 percent of consumers prefer interaction with a human agent rather than a bot or a recording.
Also, research by Shell and Buell (Harvard Business Review – 2019) made the point that when people feel anxious, it is human nature to turn to others for help. Many companies, however, funnel nervous customers to self-service technologies. The research, based in the financial service industry, found that when people had the ability to connect with another person (an expert or a peer) the deleterious effects of their anxiety were offset. The researchers concluded that anxious customers left to fend for themselves may be less satisfied with their choices, and less trusting of the company with which they are interacting. The researchers found that simply offering access to talk to a person is enough to restore customer confidence, improve trust in the company, and even strengthen long-term relationships.
Not In Supermarkets?
Interestingly, despite lessons learned in the past (e.g., adding human interaction points to please consumers at deli counters, fish counters, and meat counters), UK supermarkets now appear to be moving towards favoring shop-floor technology and reducing human interaction (self-service, or even zero checkouts). Although this may bring them in line with some overseas supermarkets, cut overheads, and deliver operational efficiencies, it remains to be seen whether customers will begin to miss human interaction.
Dos and Don'ts
Developing hold systems for the phone that stop customers from hanging up has become a science in itself where there is much research and where technology is now playing a major part.
For example, findings published in "The Psychology of Telephone 'On Hold' Programming" by Dr. Jim Will (2005) highlighted certain points to remember when creating an on-hold experience for callers. These include:
A primary cause of caller discontent involves the concept of "perceived time" on hold and adding music is effective in the lowering of perceived time. The music, however, should be upbeat, should be created differently in type and instrumentation, and should not include songs that don't evoke negative associations in the mind.
The length of the overall message-on-a-hold program is also an important factor in reducing potential anxiety. Longer, less repetitive on-hold message program formats are more effective at reducing caller anxiety.
Also, an optimal "message on hold" program consisting of music on hold and verbal presentations should:
Incorporate a variety of information genres to maximise interest and cognitive functions, placed in a structured manner.
Have longer message formats to minimize "wearout".
Have upbeat and personable verbal information delivery.
Have information with no background music or interference (which could divert attention).
Offer lower perceived time and provide structure to the holding period.
Outsourcing To Call Centres Offshore
The outsourcing of call centres offshore by companies may make sense financially and in terms of increasing capacity, but it has been a contentious issue. For example, back in 2018, BT pledged to bring all its call-centres from offshore locations such as India and the Philippines back to the UK and Ireland after the use of foreign customer service staff was identified as a major complaint by BT's UK customers.
Some of the reasons some customers dislike speaking to call centres that have been outsourced include:
A feeling that their problem isn't important enough to be dealt with by the company directly, and a perception that the only reason for offshore customer service is to save money.
Feel uncomfortable about language difficulties and communication problems, and how this can complicate solving their problem.
A reliance on scripted conversations by some offshore call centres can frustrate customers.
Customers want to talk directly to the company, particularly for services that are personal and involve finances (for example), rather than what they perceive to be 'go-betweens.'
Customers are looking for quality service more than fast service and consequently, customers are more likely to recommend a brand based on good service experience.
From the company's point of view, poor customer call experiences and negative perceptions can damage the marketing efforts that the company has spent time and effort on and could lead to customers switching.
New Technology
Despite the faults from the point of view of some customers, on-hold messaging services are likely to remain an important part of customer service for some time yet. Examples of how technology is being used to improve these services include:
Tailor-made music to suit specific customer demographics.
Systems that can update recordings with the latest promotions.
Auto-attendant and IVR for automatically routing calls.
AI-powered voice recognition technology (IVR receptionists) that lets callers state the purpose of their call and their expectations in their own words.
 Google's AI secretary ('Hold for Me') that waits on hold for phone users and notifies users when the call is picked up, thereby leaving them free to put the phone down.
AI call transcription that can transform call recordings into text documents.
Using AI-driven analytics in VoIP business phone services to gain better insights into call metrics, caller-behaviour, and the performance of individual company agents.
Chatbots
In the wider sphere of customer service and information provision, bots have become a favoured tool. Bots provide a way for businesses and organisations to reduce costs, make better use of resources and communicate with customers and enquirers 24/7. Examples of how bots can make a positive difference include:
Lancaster University's 'Ask L.U.' chatbot. Built on Amazon Web Services (voice), it delivers a voice interface that interacts with users and can be accessed via the iLancaster App on mobile phones and tablets, or by asking "Alexa, Ask L.U." on any Amazon Echo device. The service, based on the most popular 300 student queries gives students a way to get information in a fast, easy, and convenient way, 24/7.
Marriott International's chatbot, ChatBotlr, available to users through Facebook Messenger and Slack, enables Marriott Rewards members to research and book travel to more than 4,700 hotels.
During the pandemic, the World Health Organization's (WHO) bot on WhatsApp became a trusted information source and alert delivery tool for the coronavirus (COVID-19) spread.
What Does This Mean For Your Business?
The phone is still an important way for customers to make contact with businesses and organisations. How those calls are handled, and the customer's experience of the interaction is vital to retaining customer trust, and the positive perceptions that have been built-up, with considerable investment, over time. Using a system and a supplier that enables customers to get what they want quickly (without hanging up) and allows the business to get the insights and information it needs to feed into improving its marketing are important considerations. Websites, social media, and technologies such as AI and the use of bots may have reduced the reliance on the phone system, but where customers have to use it, the most important part of a good customer experience is actually having the problem solved effectively in a reasonable amount of time.
About Us
J700 Group are a Lancashire-based, family-run, professional and responsive, Managed Solutions Provider helping Businesses, the Education Sector, and the Healthcare Sector to utilise Innovative IT Consultancy Services, Cloud Solutions, Cyber Security, Microsoft 365, Telecoms, Web Design and SEO solutions to propel their organisation to the next level and beyond.
As an experienced IT Support Provider, helping businesses across Lancashire & Manchester, if you need any assistance with your IT including IT Hardware, a Disaster Recovery Policy or Managed Backup Solutions; Contact us today to see how we can help your business.
#tech #technews #technology #j700group #biztips #b2b #sme #lancashire #itsupport #businesscalls #phones #voip #onhold
---