7 Helpful Features Rolled Out in Autumn Windows 11 Update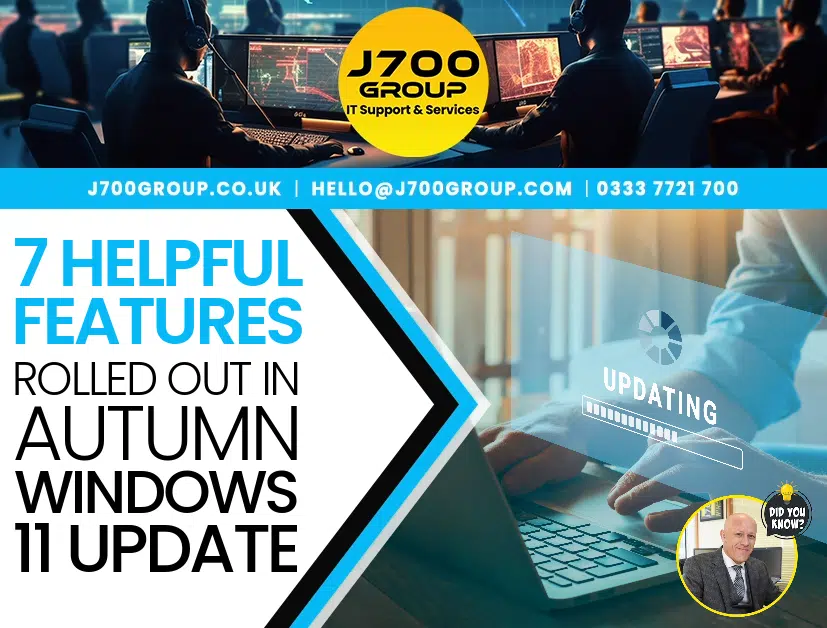 In a world where technology constantly evolves, Microsoft stands at the forefront. It continues to pioneer innovations. Innovations that transform how we interact with our digital universe.
The Autumn Windows 11 update is a testament to Microsoft's commitment to excellence. It's more than just an upgrade. It's a leap into the future of computing. Microsoft touts it as "The most personal Windows 11 experience."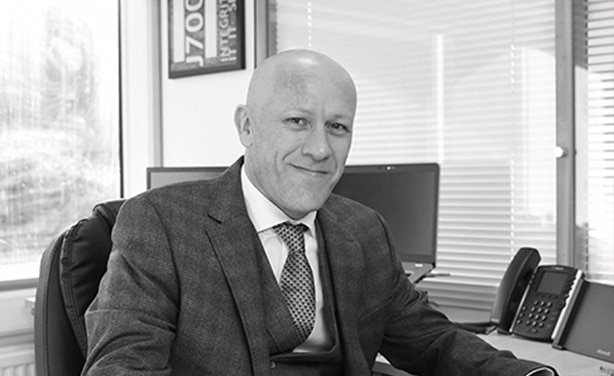 In this article Jonathan Cundliffe, Managing Director of J700 Group, an IT Support Services Provider, based in Rossendale, Lancashire explores some of the great features of Windows 11 that make this update so significant.
Microsoft Copilot: Your Intelligent Partner in Creativity
A standout feature of the Autumn Windows 11 update is Microsoft Copilot. This AI-driven sensation is like your own personal PC assistant.
Need help summarising a web page?
Want to change to dark mode, but forgot how?
Looking for a quick custom image for a social media post?
In this upgrade Microsoft Copilot can do all that and more.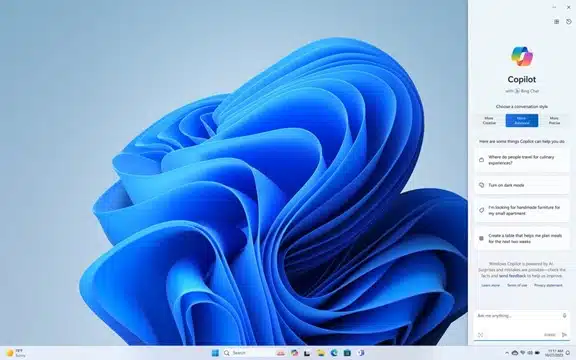 Image credit: Microsoft
Copilot is seamlessly integrated into Windows 11, offering real-time suggestions turning ideas into reality with great ease. You ask it what you need, and the AI engine gets to work.
Updated Apps (Paint, Snipping Tool, Clipchamp & More)
Have you ever wished that Windows' Snipping Tool could do more? This update does this for you, the snipping Tool is just one of many to get an AI upgrade.
Look for new capabilities in Paint, Clipchamp, and Photos. Get a unique image from inputting a text prompt and including a style. The Cocreator tool in Paint makes it easy to jumpstart your businesses creativity as it will generate the image, that you can then edit it in the same app.
Microsoft Clipchamp is one of the easiest video creator tools out there. You can now just drag in your assets and clips. Then, click to have the AI engine work its magic to create a video for you.
The new Clipchamp Auto Compose feature can:
Recommend scenes
Make edits
Create a narrative based on your inputs
Easy Data Migration with Windows Backup
When you buy a new computer, moving data can be really painful.  It can take hours to move your "pc life" between devices. And there's always the risk you may miss something.
The new Windows Backup feature makes moving between computers easier. You can choose backup options and folders. When ready to move, it is a simple process. You can restore the new PC from another backed-up PC.
Microsoft Edge: A Faster and More Secure Browsing Experience
Microsoft Edge received significant enhancements. These focus on speed, responsiveness, and security. The Edge Secure Network feature offers more gigabytes. Microsoft increased user storage from 1GB to 5GB. This function encrypts your internet connection to secure data.
Edge Secure Network has many features of a VPN. This is great for extra online security for your business. It is also helpful for companies trying to prevent data breaches from clicks on phishing links.
Save Energy & Battery Power
A feature called Adaptive Dimming is another enhancement of this update. Your screen slowly dims if you are not paying attention. This has the dual benefit of saving energy and helping you refocus.
PC sensors power this feature as well as two others. So, it's going to be more common with newer computers.
The other two features that use sensors are:
Wake on Approach
Lock on Leave
A More Personal Windows 11 Experience
Beyond the technical innovations, this update brings more, this includes a more personal touch to the user experience. Tailored to individual preferences, Windows 11 becomes an extension of the user's identity.
This includes features such as like:
Personalised themes
Custom widgets
Intelligent assistants
Every interaction feels intuitive and helps make for a truly personalised operating system.
Other useful Enhancements
Here are a few more new Windows 11 features you can explore.
Copilot in Microsoft Shopping: Find what you need fast when shopping online. Bing will provide tailored recommendations based on your requests.
Content Credentials: Add an invisible digital watermark to your AI-generated images in Bing. Cryptographic methods help you tag your work.
Bing Chat Enterprise Updates: Boost work creativity and enjoy multimodal visual search. Find information using just images.
DALL.E 3 Model from Open AI: Use the Image Creator in Bing and you'll likely be impressed. It's had an upgrade and uses the DALL.E 3 model to render images from text prompts.
Harness the Power of Microsoft Products
Microsoft is definitely a leader in work productivity tools.
If you are still working like it was 2020, let J700 Group help you upgrade. Employees can be more efficient than ever with the right apps.
We've got your back with Microsoft 365, Windows 11, and other solutions. The expert team at J700 Group can help guide you, so you can gain an edge on your competition.
Give Angelina or Deon a call today on 0333 7721 700 to schedule a chat with one of our specialists or email us at [email protected]
J700 Group provide effective IT support and services that enable your business to have secure, responsive and reliable information technology, keeping it running smoothly 24/7. Above this though, we are a family run company who truly care about our customer service and the business relationships we develop.
J700 Group are a Lancashire-based, family-run, professional and responsive, Managed Solutions Provider helping Businesses, to utilise Innovative IT Consultancy Services, Cloud Solutions, Cyber Security, Microsoft 365, Telecoms, Web Design and SEO solutions to propel their organisation to the next level and beyond.
As an experienced IT Support Provider, helping businesses across Lancashire & Manchester, if you need any assistance with your IT including IT Hardware, a Disaster Recovery Policy or Managed Backup Solutions please get in touch with one of our team.
Where to find us: Prinny Mill Business Centre, 68 Blackburn Road, Haslingden, Lancashire, BB4 5HL.
#TechEvolution #Windows11Features #WindowsUpdate #TechUpgrade
---