Bury's Best Website Design & Development Service
Hire dedicated website designers in Bury to take your business to the next level. Please contact us right away to learn more about our services and to view our creative portfolio.
J700 Group
UK's Best Website Design
& Development Company
in Bury
Top-Notch Website Design Agency in Bury
A website may be the first impression your customers have regarding your offerings, so it is crucial that it delivers your message clearly while giving an excellent user experience to its website visitors.
J700 Group is a web design company based in Bury, United Kingdom, that specialises in providing customers with custom web design and development solutions.
Our team of creative designers in Bury can design everything from simple informational websites to complex data-rich web applications, and eCommerce websites.
We take pleasure in offering great customer service and dedicate 100% of our time to working exclusively with you to achieve your objectives. Get in touch today and get an amazing website design experience with J700 Group UK.
Bury's Best B2B Website Design Company
In recent years, J700 Group has provided custom website design and development services to a number of B2B clients. We research each business segment thoroughly before beginning our initial design phase and bringing innovative concepts to life. Our Bury web designers are highly familiar with the aesthetic of designs that each business industry needs in order to attract customers, and we work on them accordingly to deliver the best web design solutions to our Bury clients.
Customer Satisfaction
We provide excellent work to our customers and provide many revision options in case our clients are not satisfied. For us, customers are always our first priority, and to satisfy them we ensure to offer the best possible service with amazing after sales support.
Real Time Communication
Do you hate receiving late responses? Don't worry! We help you connect with the design team who is working on your project in real time. There's no need to deal with a middleman! This fills the communication gap between our team and our clients, resulting in a fantastic outcome.
Source File Delivery
J700 Group does not claim ownership of any designs that have been sold. At the same time, we give our clients each design template that we have made for them including source files and copyrights.
Advanced Visual Graphics
We believe in taking design to the next level. We make sure to give the best every time, whether it's a landing page layout, animated motion graphics, or anything else involving design.
Live Customer Support
J700 Group does not claim ownership of any designs that have been sold. At the same time, we give our clients each design template that we have made for them including source files and copyrights.
Same Day Turnarounds
We don't take a long time to transform your ideas into reality.
You make a request, and our designers get to work on it right away, providing same-day turnarounds.
Looking for Website Design expertise?
Level Up Your Digital Presence With Our Custom Website Solutions
We are a family-owned and operated digital agency in Bury that provides a variety of services ranging from website application development to digital marketing and IT.

We have a team of skilled web developers in Bury who can create responsive websites that function on any device, whether a desktop, laptop, tablet, or smartphone. We work with businesses to create beautiful, functional, and user-friendly websites with the goal of increasing leads, conversions, and revenue.
Grow Your Business With Our Expert Website Design Services
There are numerous reasons to choose us!
professional
guaranteed quality
responsive designs
Custom IT Support and Technology Solutions tailored to fit your exact business needs, including OnSite Support, Remote Support, Telephone, and Email Support.

We also offer ProActive Monitoring to foresee and resolve problems before they affect your business. All Support Packages are custom to your business needs and can be changed and adapted to fit your future business requirements.
Websites that cater to search engines typically receive more traffic than those that don't. So, of course, you want to prioritize your users.

However, in order to get the most out of your website, it should be designed and developed by keeping both visitors and search engines in mind. Our top-notch website designers develop one-of-a-kind and responsive websites that are fully accessible and search engine indexable, which is the ultimate goal.
Your website design doesn't have to be boring at all. Choosing the right color that resonates with your brand's vision is essential. We have hired the best web designer in the UK who ensures that your website looks appealing to the audience.
If you want your business to stand out, you must pay attention to its quality web designs. J700 Group can help you retain prospects simply by creating compelling web design. Good images create a strong visual impact, and we can help you achieve that.
Why Invest In Your Businesses Website?
To get the best from your website, it needs to be modern, well designed, fast, responsive, SEO optimised and regularly updated.
J700 Group can provide all this for you, so you can then just concentrate on keeping up with all the orders and enquiries your new website will help generate !
Our Satisfaction comes from seeing your business grow with our help. 
We design mobile responsive, fast loading and minimal website designs for all types of businesses
Some Of Our Website And Digital Marketing Services
Design | Creativity |Technology
Examples of Some of J700 Groups Website Design Projects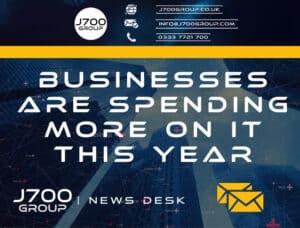 As a business owner or manager, you know how important good IT is. Your business couldn't function without...
Read More